Hello and welcome to our new Lushin website
The new Lushin website is here, and it's been redesigned to make it easier for our clients to navigate, learn more about our coaches in their expanded bio pages, view our latest resources, and more.
Our updated site features significant upgrades in organization and design that we hope you'll enjoy, including:
Streamlined navigation
Improved mobile experience
Updated brand and design
And new templates for event registrations
We also created a searchable section of our website to archive hundreds of blog posts, all of our whitepapers, and 80+ videos together so that you can search for educational resources by topic or author on different topics – all in one spot.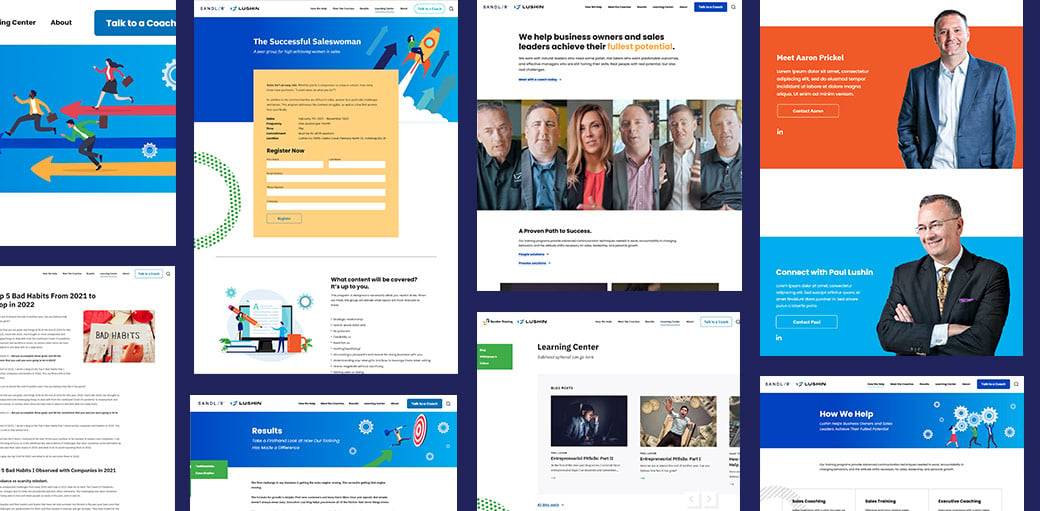 Read on to learn more about how our Lushin website redesign benefits our staff and website visitors.
Q&A
Go behind-the-scenes of the redesign project with Lushin's Katlyn McKay, director of marketing, and Brian Kavicky, senior vice president. Their responses—below—have been condensed for length.
Why did Lushin redesign its website?
Katlyn: We decided to redesign our website for many reasons, including to:
Generate brand uniformity by designing all internal website pages to match our homepage (which was updated previously)
Reorganize website page layouts to ease user navigation
Ensure our website brand aligns with our marketing initiatives displayed on social media, email, ads, and other collateral.
Create templates that are customizable to events, blogs, and resource pages.
What do you like best about the new site?
Brian: The customized artwork within the site is on-brand and reflects points that we wanted to make. It ended up better than stock images.
What new features will clients love the most?
Katlyn: Clients will really enjoy being able to navigate to our resources more easily and appreciate how clean the new landing page template is laid out for our upcoming events.
---
See the difference for yourself
Our new website was redesigned and developed by TBH Creative, an experienced web design agency. With their help, visitors to Lushin's updated website now have everything they need at their fingertips.
Explore our new site, and tell us what you think.